Zefon Via-Cell® Cassettes
The Via-Cell® bioaerosol sampling cassette is designed to collect both viable and non-viable bioaerosols, maintain viability of the viable mould spores and prevent growth during transport to the laboratory.
Sampling with the Via-Cell® is very similar to its sister product Air-O-Cell®. Simply connect it to any pump calibrated to 15LPM and run your sample.
The key to the Via-Cell® is that the media used for collection maintains viability of spores and allows several analysis options.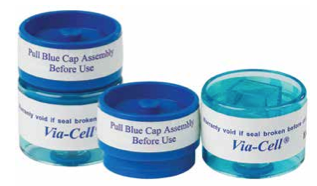 One Sample, Multiple Analysis Options
| | |
| --- | --- |
| | The Via-Cell® sampler is the perfect tool for collecting viable organisms and culturing them on agar plates. Simply dilute the media in sterile water and transfer to a culture plate. |
| | The Via-Cell® utilises a water soluble collection media which is ideal for PCR and other chemical types of analysis. Once the sample is diluted in water, it can be transferred most anywhere. |
| | Samples collected using the Via-Cell® sampler may also be analysed using direct microscopy to give total spore counts. |
---